Our different Champagne :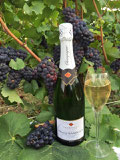 BRUT
Made of a typical blend (40% Pinot Meunier, 30% Pinot Noir et 30% de Chardonnay), it presents  notes of lemon and vanilla.
Idéal as apéritif, it has beautifully delicate bubbles , with a lot of liveliness and freshness.
Price : 17.50 € per bottle and 105€ for one box of 6 bottles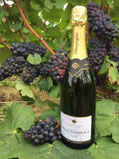 BRUT RESERVE
This older cuvée gives enhanced flavours to the champagne. It presents with notes of flower and a buttery definition with a great balance and length on the palate.
Perfect to be served during a meal.
Price: 18.50€ per bottle and 111 € for one box of six bottles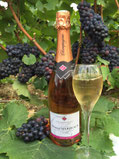 BRUT ROSE
 
This Cuvée is comprised of 20% of grapes from the Champagne region, exhibits notes of red fruits (raspberry and gooseberry), a fresh and expressive scent complemented by a strong structure and a lot of power.
Price: 20€ per bottle and 120 € for one box of six bottles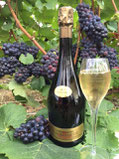 VINTAGE 2014
 Grapes only from 2014 (50% pinot noir  50% chardonnay).
This is a powerful and mature champagne with refreshing notes of butter and flower (hawthorn, acacia). The roundness on the palate and the marvelous structure let you enjoy this champagne throughout a meal.
Price: 23€ per bottle and 138 € for one box of six bottles